Manufacturers' and dealers' Forum «Furniture as Business» resume
24 / 11 / 2011
The largest meeting of furniture business first persons in Russia has taken place on November, 21-22 in Expocentre. International forum «Furniture as business», which became a significant event of "Mebel-2011" Exhibition business program, assembled more than 200 delegates. Besides the representatives of such well-known companies as "Shatura", "Ronikon", "Mariya", "Möbel&zeit", "Dyatkovo", "Pervaya mebelnaya fabrika", heads of small- an middle-scale businesses came from 56 cities and 12 countries to listen to Experts' speeches. So what attracted them to the Forum?
The business program was topical and informative due to a special technology used by Research and Analytics Department of CEC "Imperia": more than 500 representatives of furniture sector have participated in a special survey, held when preparing the business program. These people have chosen the topics to become the key ones on the Forum: sales stimulation, effective work with dealers and internet-trading.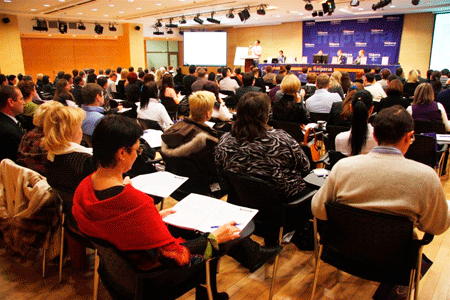 Speakers produced their points of view, contradictory at times, on strategic issues: how to sell when the customers flow is weak? How to organize effective work of retail points of sales? According to an opinion of Alexander Levchuk, executive director of "Möbel&zeit", sales managers should be inspired… While a well-known businessman Dmitry Potapenko (ex-"Shodnya mebel", ex-"Kyhni Rossii") called the delegates to train the sales managers so that their skills would be automatic in his impressive peremptory performance. On his opinion, the prospects of growth for Russian furniture manufacturers are really obscure: effectiveness of production in South-Eastern Asia is much higher, while according to data of Andrey Kartashov, "Express-obzor" research director, the amount of "grey" import will increase due to Customs Alliance creation in 2011. Sergey Alexanodrov, a founder of International Furniture Employment Center, demonstrated a number of practical tools, which allow rapidly increasing sales volume. According to Sergey's data, a customer which enters the showroom must be "caught" in 10 seconds – otherwise he just goes to the competitor.
A lot of questions have been caused by speech of Victor Guschin, The Center of expertise and furniture quality control Director, which was devoted to regulation of conflict situations between furniture companies and customers. His speech would let the delegates avoid difficult situations in future.
During the session dealing with furniture internet-shops, representatives of 3 countries performed: Russia, Poland and Ukraine. Russia was represented by Michail Shestoperov (Ronikon) and Boris Stepanov (Shatura). Delegates had an opportunity to compare the situation with "virtual" sales in different countries and discuss the effectiveness of different tools of internet-marketing: a hot discussion was caused by a topic of furniture promotion in social networks, raised by Anton Pugachenko "GreenSMM" company General director.
Business program of the forum was supplemented by well-known experts master-classes on next topics:
"Entrance of foreign companies on the Russian market" (Ksenya Kasyanova, "Contact-Expert"), "Client-company contact points" (Natalia Barsheva, "REKANA") and "Visual merchandising" (Susan Smates, «JosDeVries The Retail Company»).
It's necessary to notice that there is a society of active participants emerging in furniture branch. These people come to the Forums not only after some new knowledge and precious business contacts, but after new ideas for their business.